Welcome to First Camp Bogense City
At First Camp Bogense City, the whole family can enjoy a nice camping holiday close to the beach, marina and town.
We have an indoor waterpark with a waterslide and we also have a big heated outdoor pool. We have multiple playgrounds around the campsite and we have a lot of activities throughout the season.
In short: Camping at it's best!
Choose region
Click on a region or change country to see other campsites.
LUXURY TENT HOLIDAY - DIRECTLY IN NATURE
If a camping holiday is just the thing for you and you want to avoid large investments in a tent or caravan, then we have the perfect offer for you.
We have set up a very special tent area at First Camp Bogense City, which we call Aloha Camp. Here we have 6 large luxury Glamping tents in the highest quality from Isabella. All equipped with beds and furniture so you completely forget that you are in a tent.
Glamping tents give luxury and comfort combined with freedom. You even avoid having to pitch the tent and unpack it again. In short, it's like a hotel - directly in nature.
Cooking and dishes are easily done in the large communal outdoor kitchen right next to the tent, which is reserved only for those staying overnight in Aloha Camp. It gives you the chance to get a good chat with some of the others staying overnight in Aloha Camp and maybe new friends for the kids.
There is room for 6 people in the tent.
Glamping is a relatively new form of holiday in Denmark where you combine the best of the traditional caravan holiday with the slightly more primitive and intimate tent holiday. With our glamping tents we have created the settings for the perfect family holiday far away from everyday stress and many chores.
In the glamping tents there are
a double bed in the master bedroom
2 bunk beds in children's room
sofa and lounge area
dining area as well as refrigerator.
In addition, there is a covered terrace with plenty of room for fun and play all day. Lighting and electricity is included in the tents. These are rental tents of the absolute highest quality.
The area around First Camp Bogense City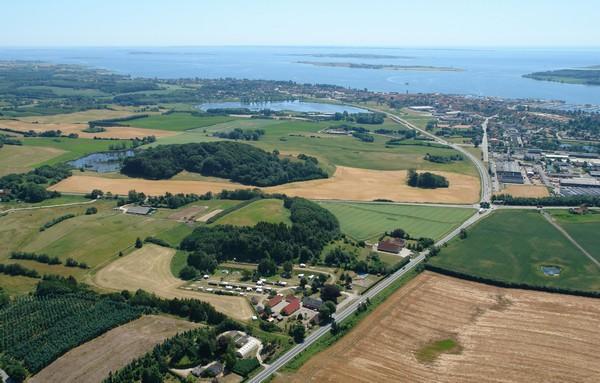 First Camp Bogense City is centrally located right in the middle of Denmark on Funen. From here it is not far to the major tourist attractions such as LEGOLAND, Odense Zoo, Egeskov Castle and the Railway Museum. But around Funen there are also a large number of other exciting sights and experiences.
Here you can see more about a small selection of them.