Welcome to Faaborg Camping
Faaborg Camping is owned by the couple Lone and Torben Kjærulff and the boys Nikolaj and Rasmus. Faaborg Camping is a small campsite of 125 units located in a hilly terrain in a fantastic nature area.
The campsite fully meets today's requirements for good washing facilities, large units all with electricity.
At Faaborg Camping, it is the owners who will meet you at the reception, who mow the grass, cleans the toilets - always ready to help you when needed.
We want our guests to have a good stay at Faaborg Camping and we are happy to be available with information and help.
Whether you are here for peace and quiet in the South Funen nature or you are active and want to experience the Funen attractions, Faaborg Camping is a good starting point.
Choose region
Click on a region or change country to see other campsites.
Our new luxury tents have everything the traditional outdoor camping trip has, plus a little extra luxury. It is about being close to nature without compromising on comfort.
4 person Glamping Luxury tents - The tent contains:
2 single box spring mattresses 80 x 200 with duvets / pillow
Double bed 140 x 200 with duvets / pillow
Table and 4 chairs
Lounge set
Refrigerator, electric kettle, pots and dishes for 4 people
Covered terrace with table and chairs


Practical information:
The tent is without water. Service building is located approx. 75 metres from the tent.
Bed linen and linen must be brought. It can be rented by prior arrangement
The price is incl. specified person number and electricity, max. 5 kwh per night.
Must always be paid in advance. Kr. 400, -
Final cleaning must be done by the tenant and paid in advance. Refundable on departure if you clean the tent yourself. Cleaning can be ordered.
The tent is available from kl. 15:00 on the day of arrival until kl. 11.00 on the day of departure.
Dogs are NOT allowed in the tents
The area around Faaborg Camping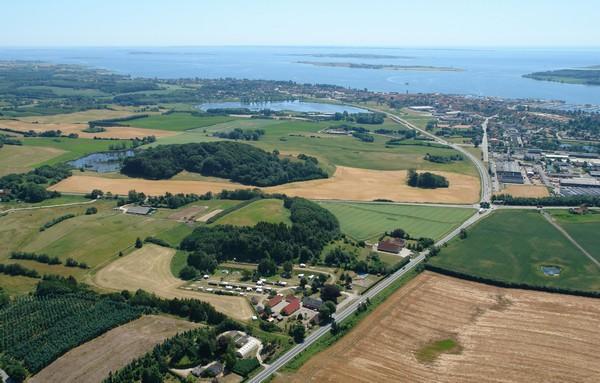 You will find, among other things:
Egeskov Castle
​17 km. away is Egeskov Castle. Spend a whole day at Egeskov Castle with its fantastic garden, museum and activities for children and adults.
Prison Museum Arrest
Visit Arresten in the middle of Faaborg city, an experience for both young and old. Arresten is a museum where you get very close to both history and the present in a Danish detention centre.
Faaborg Painting Museum
Faaborg Painting Museum is definitely worth a visit. Johannes Larsen, Fritz Syberg and Peter Hansen played a crucial role in the museum's foundation. They were part of the museum's purchasing committee, were responsible for the hanging of the best represented artists in the collection. samlingen.
Ø – Havstien
In 2007 the 220 km long Ø-havsstien opened - one of Denmark's longest hiking routes. Just under 1 km from Faaborg Camping you can walk on Ø-havsstien.
Japanese Gardens
Definitely a place we recommend - Experience five different styles of Japanese garden culture up close. They are built according to unique ancient Japanese traditions. Discover the styles view, walking, temple and meditation garden as well as the garden of life.
Naturama
Only half an hour drive to Svendborg you will find Naturama. Get to know animals from all over the world.
Odense Zoo
Only half an hour's drive from Faaborg Camping is one of northern Europe's most beautiful zoos.
Faaborg City
Many wonderful experiences await you in the beautiful old market town and port city of Faaborg. In Faaborg's old cobbled streets and courtyards you will feel the idyll and charm.
Diving
NEW: The ferry M / F Ærøsund is a very young wreck. It went down in October 2014 after a controlled lowering and now creates the setting for one of Denmark's most interesting artificial reefs.
Fishing
The coasts of South Funen, along Faaborg and the Islands offer a unique fishery for sea trout with many good experiences await those who seek them out. The short distances make it easy and quick to change between fishing spots when the weather changes.