Welcome to Gåsevig Strand Camping
Not many vacations can compete with a nice and active beach camping in lovely surroundings. Many activities that unites the family, easy access to the beach and nice food makes a campsite the perfect spot for the holidays.​
You will find all the good things about beach camping at Gåsevig Strand Camping in Southern Jutland. The campsite is centrally located with good transport connections from Funen and the rest of Jutland, has short distances to many exciting sights, and has a lot of fun activities aimed at the whole family.
Many activities on a beach camping vacation
On the campsite you will find a lot of activities that encourages to an active and nice beach holiday with your family. Some of the activities the campsite offers is kids disco for the small children, twistbread and pancakes over bonfire, karaoke and a lot of other activities.
A lot of the activities on Gåsevig Beach Camping is weather dependent.
If the weather is good water activities will take place. The water activities are waterskiing, tube, bananaboat and waterballs. In case the weather is against us we arrange activities in our common room and activity tent where we have table tennis etc. To cut a long story short Gåsevig Beach Camping is one of the campsite in the country that all-around skills.
Choose region
Click on a region or change country to see other campsites.
Room for the whole family in our glamping tents
Moment 300 North is a modern and newly interpreted version of the classic villa tent. The asymmetrical construction oozes nostalgia, but is still the best solution of the day, which has plenty of space. Our glamping tent is the family's villa tent with room for four people.
The tent is furnished with a solid bottom and four real beds, so you do not have to sleep on air mattresses. There is a dining area with table and chairs, which can accommodate four people. There is also a small fridge. The terrace is covered with a sun canopy and the terrace consists of a solid bottom. This gives you extra space.
The area around Gåsevig Strand Camping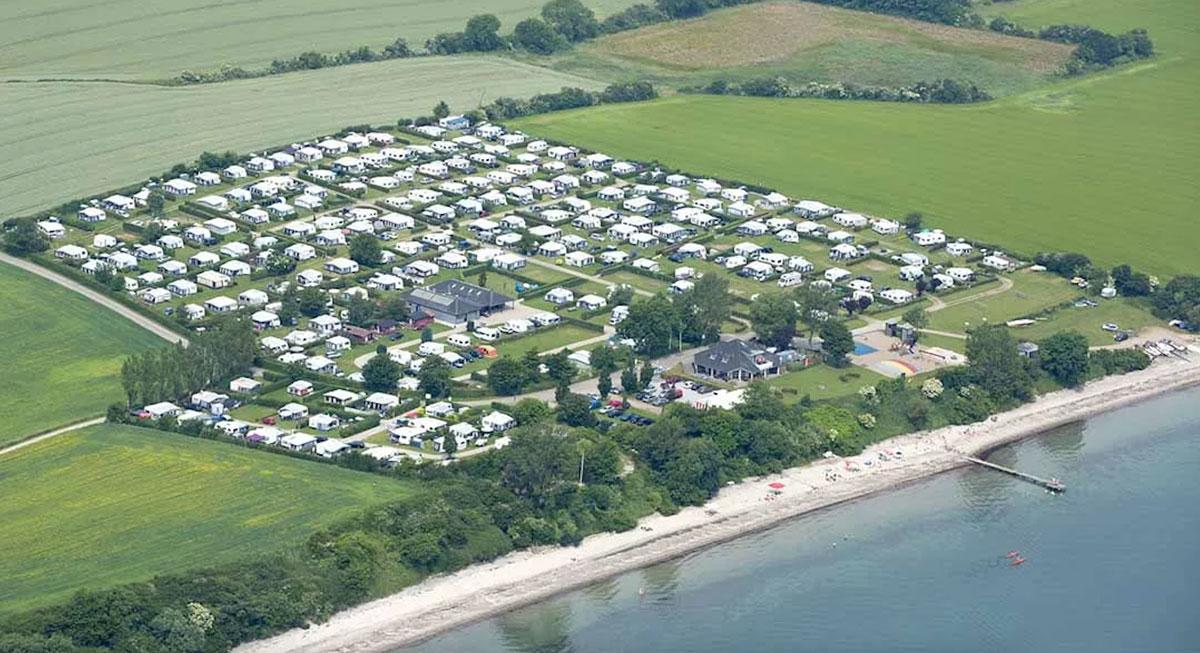 Slivsøen
About 3 km from Gåsevig Strand Camping is Slivsøen – a nature restoration project with a completely unique nature.
The area is suitable for a long walk or bike ride around the lake.
Slivsø is 164 hectares and South Jutland's third largest lake. The lake is a habitat for 180 bird species, among others. the sea eagle lives in this area. In addition, the lake contains many pike, perch and trout.
At Slivsø there are good hiking routes. A north route and a south route. The northern route takes you very close to the lake and wildlife. It takes you past the old pumping station, which today has been rebuilt and serves as a lookout tower. From there there are views of the entire lake and wildlife. The route is about 3.5 km long.
The southern route is about 2.5 km long and offers a panoramic view of the lake and the countryside.
Cycling
The terrain is also for cycling. Just outside Gåsevig Strand Camping is cycle route no. 5 and the cycle route "Baltic Sea route" also passes right by.
We suggest a trip Kalvø island, or a bicycle trip to Round Mill on Løjtland along the coast and through the forest.
The "cool" bikes down to the ferry and sail to Barsø, which can be seen from the square, go for a walk and then cycle home again. The zoo with deer and roe deer is only a little 10 km away. Ask at the kiosk, we are happy to help.
Fishing
One of Southern Jutland's best fishing spots
Gåsevig Strand Camping is located right next to the water – with 300 meters of coast along the site. There are good fishing opportunities on half of this stretch – there is a protection zone on the other half – and unlimited opportunities if you continue along the coast (approx. 500 meters) until you reach Sønderballehoved. The stretch between the campsite and Sønderballehoved is a perfect place to fish from the coast. Fishing from cutter is not a problem either. Fishing trips are arranged from both Aabenraa and Haderslev.
Fishing in Danish waters and from the beach requires fishing licenses, it can be purchased at the kiosk. If you go 1000 meters north instead, you come to Hoptrup Å. The river is famous for its large trout, it is definitely worth a visit and Haderslev angling association does a great job. If you would rather fish in a put and take lake, there are many put and take lakes within a radius of 10-15 km around the site. Haderslev Dam is also a good place to fish, here you can rent boats, so you can go out on the lake to fish. You can find more options about fishing in lake and river by clicking here. Wherever you fish, it requires a fishing license. In streams and lakes also local fishing licenses. Fishing licenses for e.g. Hoptrup Å can be bought in the kiosk.
Aabenraa swimbath
Southern Jutland's best swimbath with slide
Aabenraa Water Park contains 2 pools. One pool suitable for small children with slightly warmer water and i.a. countercurrent channel, massage nozzles as well as a water cannon and other figures spraying water.
​
The swimming pool also contains a sports pool where there is plenty of opportunity to unfold on the 1 and 3 meter seesaw or swim lengths in the 25 meter long pool.
For the bravest, the water park also includes a 60-meter-long water slide.
The water park also includes a sauna, Turkish steam bath and spa pool.