Come to Lærkelunden Camping in Southern Jutland and enjoy our good service.
Enjoy camping right next to the water Flensburg Fjord
Feel like staying near the sea, surrounded by a beautiful countryside and other campers visiting Rinkenæs to enjoy life?
Then come to Lærkelunden Camping and experience the speciel atmosphere in South Jutland, the beautiful water views from almost all sites, the special coziness, the happy people, the indoor swimmingpool, the play house and the playground in the middle of it all. At first glance it looks like a well-tended park and we like it like that. A kind of garden where you can come and relax with your family – and return to when you have been on a tour along the Gendarme path, to the castle in Gråsten, at the border or whatever you feel like doing.
Lærkelunden is a popular little campsite in Southern Jutland with approximately 250 units. Some call it exclusive. Others call it a unique garden or the most beautiful spot in Southern Jutland. We just call it Lærkelunden – and we are pleased that our guests return again and again – to get more unforgettable holiday memories.
Best regards from Ruth & Henrik
Choose region
Click on a region or change country to see other campsites.
Luxury rental tent for up to 4 people.
We have 3 Isabella luxury tents for rent. The tents are suited for 4 persons. They are 23 m2 in size and have a 7 m2 terrace with a sun canopy. Inside they are equipped with 2 bedrooms with two single beds in each. Lounge with dining and seating area. Fridge and tableware for 4 persons and more. The terrace is equipped with furniture. There is a gas heater in the tent, you can buy gas here on the site.
One of the tents is located on pitch 46 near the playground. The other two are located on pitch 131 and 132 with a beautiful view of the water and near the service building.
Pets are not allowed in the tents.
The area around Lærkelunden Camping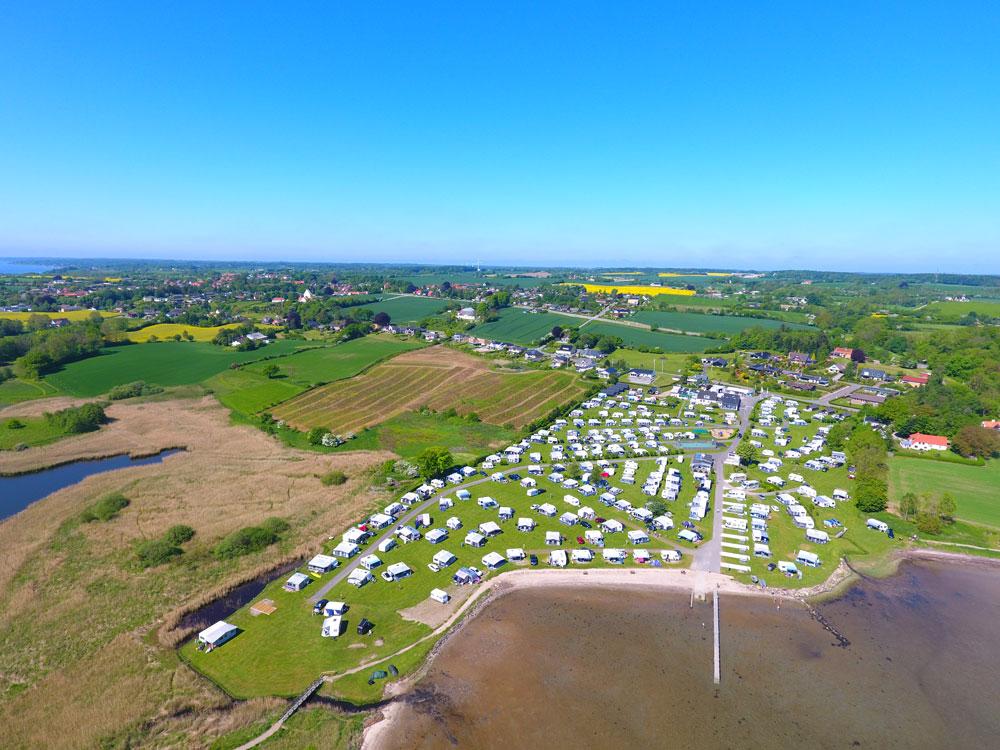 Camping in Southern Denmark - Near Gråsten, Sønderborg and Flensburg
Camping near Flensburg Fjord
Guests enjoy their camping holiday in South Jutland, much due to Lærkelunden's unique location right on the beach down to Flensburg Fjord.
By bike you can ride on the bike path all the way to Gråsten. Gråstenstien leads the cyclists up to Gråsten Castle Park and the forests around the castle. Here are many good cycling routes and hiking trails that you can try out during your camping holiday in South Jutland. If you want to go camping near Flensburg Fjord, Lærkelunden is the place for you.